What exactly is a free FLEX use period and how can I take advantage of it? Discover how targeted and general freebies work!
Details on the free use
Only FLEX vehicles identified by the snowflake icon are subject to a free period.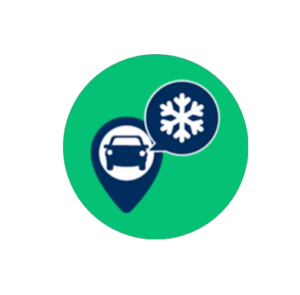 If, after the announcement of a free period, you no longer see vehicles displaying this icon, it's simply because all the vehicles that were offered for free have been taken.
Targeted free use vs general free use periods
Targeted and spontaneous free use
We sometimes offer targeted spontaneous free FLEX use to facilitate the relocation of certain vehicles. The free period for targeted vehicles is always the same: from 3pm to 10am the next day.
If these hours were to change, you would be informed through our social networks or by email.
Note: in the case of a targeted free-use period, the vehicle will no longer display the free icon when you release it after moving it (back to the usual orange icon). The free period only applies to your first trip if you were to free your FLEX.
General free use
When the situation requires it, all FLEX vehicles are offered for free, and an email is sent to notify you of the schedule. This information is also posted on our socials (Facebook and X, formerly Twitter).
How to maximize your chances of getting a free vehicle?
Unless otherwise stated, targeted free use starts at 3pms. In any case, we invite you to keep an eye on your app near the beginning of the announced period.
It is also possible that between the start of the free period and 7pm other vehicles are selected as free.
This is especially the case if we see that vehicles are on newly planned snow removal routes by the City of Montreal.
If you haven't had the chance to get a free vehicle shortly after the start of the announced free period or around 3pm during a targeted free service, it may be worth checking your Communauto app from time to time to try again.
Why will general free use become the exception rather than the rule?
The goal is to maximize the probability that the vehicles that must be moved are indeed moved, and also to make it easier for our teams to minimize the risk of vehicles not being moved in time during a snow removal operation.
Finally, it should be noted that unless we have announced free use for all vehicles, it is risky to randomly select a vehicle before seeing the icon specifically indicating that it is part of the group of vehicles that will be offered for free.
We hope that this information is useful and safe winter travels!