Montréal, Québec, September 9, 2020 – Communauto, the Agence de mobilité durable (the "Agency") and the City of Montréal today announced the launch of a pilot project that will allow users of Communauto FLEX's self-service vehicle, without reservation, to finish a trip downtown on a paid parking space.
For a few days now, a first group of users has been experimenting with this option in the perimeter between Viger Avenue, Sherbrooke, St-Hubert, and Guy streets. To take advantage of this option, participants in the pilot project use the Communauto app to indicate the number of parking space used. They are then allowed to release their vehicle for a flat rate of five dollars ($5.00).
If this first test phase proves successful, all users of Communauto's FLEX service will have access to this option by the end of September. In Montreal, where demand for car sharing is growing rapidly, Communauto's fleet, already more than 2,000 vehicles, has grown this year by nearly 400 units, to which 80 new units will be added during the month of September.
This project is the result of a long process that has led, among other things, to the implementation of new policies by the City of Montréal to promote car-sharing and mobility. It is also the result of technological developments carried out by the Agency and Communauto, as well as a concrete investment on the part of both organizations, thus simultaneously investing in both this partnership as well as in urban mobility in Montreal.
"Over the past three years, driven by a desire to provide additional mobility options and make going to Montreal easier, we have implemented several regulatory changes to encourage the deployment of car-sharing and self-service vehicles, particularly in the downtown core. We are pleased to see this pilot project come to fruition with Communauto, which will allow Montrealers to reach the city centre with peace of mind and easily park their self-service vehicle. The high turnover rate of these vehicles will certainly benefit downtown merchants, who currently need support, without hindering on-street parking spaces in the long term," said Mr. Éric Alan Caldwell, Head of Planning and Mobility on the City of Montreal's Executive Committee.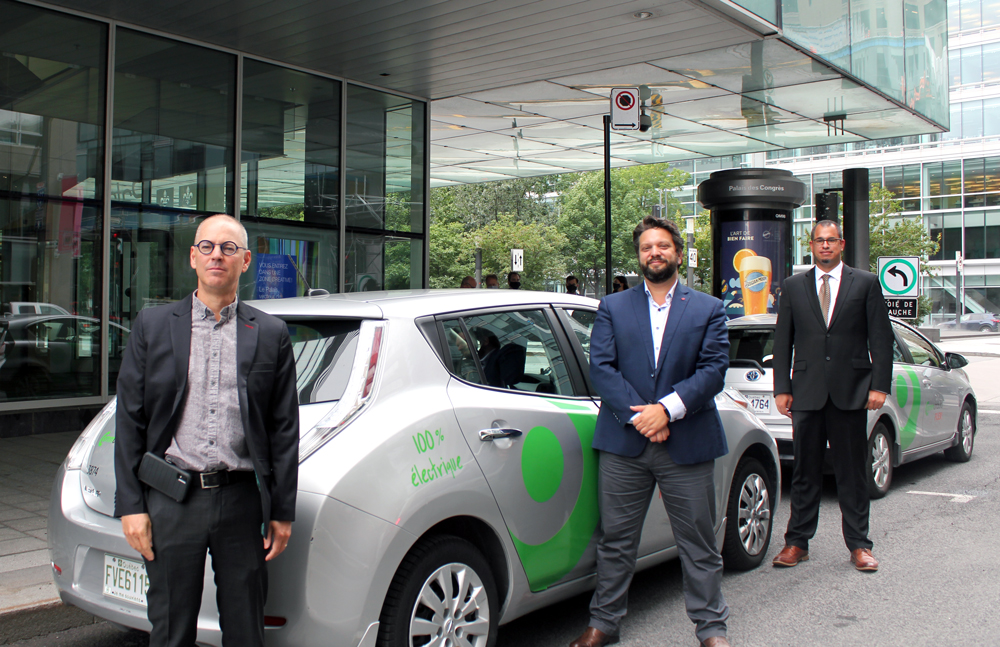 "We are proud of this collaboration with Communauto, which is directly in line with the Agency's actions and mandates," said Mr. Laurent Chevrot, Managing Director of the Agence de mobilité durable. "The City's vision and openness to making the required regulatory changes, as well as the implementation of this pilot project, should help stimulate car-sharing and improve the use of public space, while providing greater flexibility and access to the downtown core. In the current context in particular, we are convinced that multiplying these types of initiatives will encourage car-sharing users to travel downtown more often, in turn promoting both better rotation in parking spaces and additional support for economic recovery efforts."
A self-service vehicle is used in Montreal up to 13 times a day by different users. FLEX vehicles ending their run in one of the authorized downtown spaces (spaces for 403/405 stickers that are already reserved for car-sharing) remain immobilized less than 2 hours before the next use.
"Our goal is to help optimize the use of available downtown parking space while making it even more user-friendly to use a service that allows you to move more people than a private car. This offer adds to the services already available such as public transport, taxis, and bike-sharing for trips for which the use of a car is still necessary. We will be charged the space used at the full rate but will be charged back to our users on the basis of an average cost that can be adjusted as needed. This is by no means a measure to subsidize car use to get downtown," said Mr. Benoît Robert, President and Founder of Communauto.
According to studies conducted in various American cities, a self-service vehicle, without reservation, replaces between 7 and 11 private vehicles, while a car-sharing vehicle with reservation replaces 10 private cars in Montréal.
About the Agence de mobilité durable
A paramunicipal organization, the Agence de mobilité durable's mission is to ensure the management, regulatory enforcement, and innovative development of paid on-street and off-street parking throughout the city of Montreal. Through its leadership, it will contribute to improving customer experience, street sharing and public domain occupation by supporting actions that promote urban mobility.
Since January 1, 2020, the Société en commandite Stationnement de Montréal's activities, as well as those of the Service d'application réglementaire de stationnement (SARS), previously under the Service de police de la Ville de Montréal, have been transferred to the Agence de mobilité durable.
About Communauto
Founded in Québec City in 1994, Communauto is the largest carsharing service in Canada and the oldest in North America. Present on two continents in 14 cities in addition to Calgary (Edmonton, Toronto, Kitchener/Waterloo, Hamilton, Guelph, London, Kingston, Ottawa, Gatineau, the regions of Montreal and Québec, Sherbrooke, Halifax, and Paris in France). With a fleet of more than 3,000 vehicles, it is one of the few operators in the world offering both free-floating and station-based carsharing. Communauto is a private company whose main mission is to reduce the impact of cars on cities while improving access to mobility. Communauto establishes strong partnerships with public transit authorities and offers the largest electric car-share fleet in Canada, in selected cities.
Source: Communauto
Information:
Communauto
Marco Viviani
Vice-President, Strategic Development
drp@communauto.ca | 514 316-6500
Agence de mobilité durable
Caroline Martel
Communications & Public Relations Advisor
cmartel@agencemobilitedurable.ca | 514 868-3795