Toronto's first free-floating carsharing service, Communauto FLEX, reaches 30 000 usages in first three months
TORONTO, March 5, 2019 – Toronto's appetite for alternative mobility is growing. A new report from Communauto, Canada's longest-running carsharing company and the new free-floating carsharing service in Toronto, found that 1 in 5 Torontonians (20 per cent) would consider getting rid of their household vehicle and using a carsharing service as a replacement. Of that 20 per cent, Millennials were most likely to make the switch, with 1 in 4 (25 per cent) claiming they would reconsider household vehicles for the right carsharing alternative; 16 per cent of Gen Xers and 15 per cent of Baby Boomers said the same.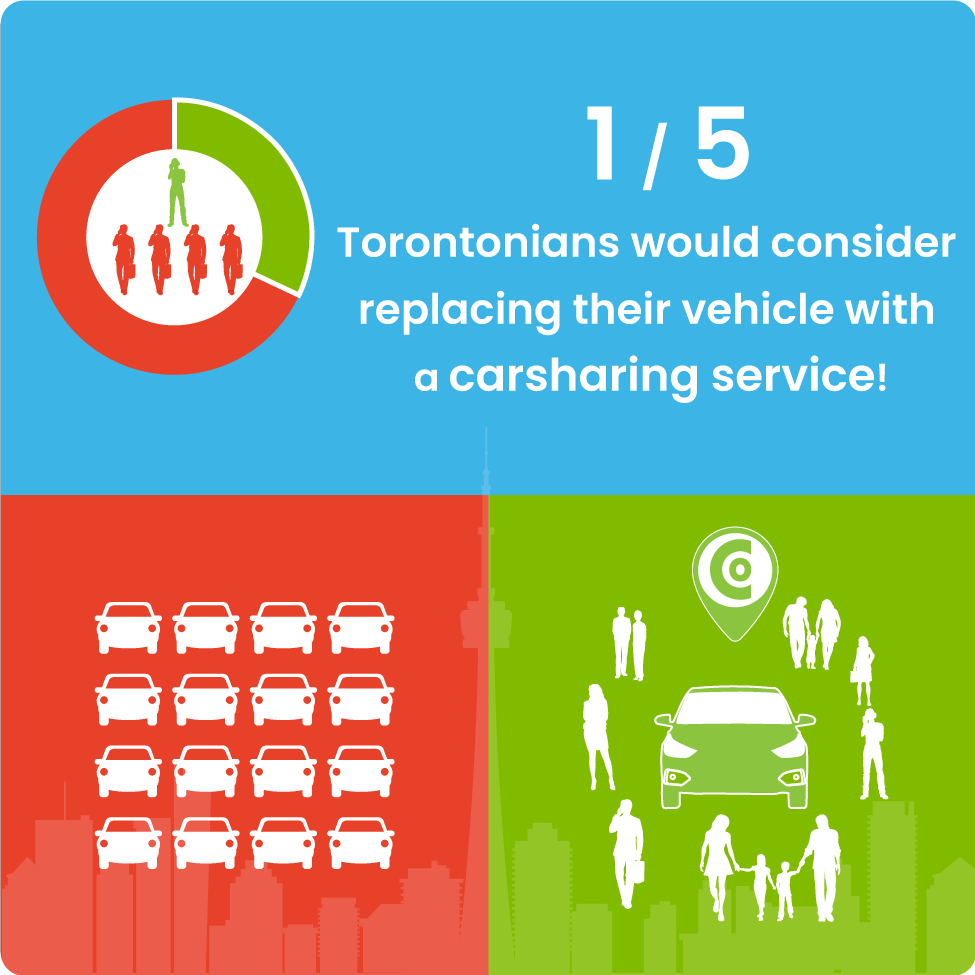 "Currently, 87 per cent of Torontonians own a vehicle. As technology evolves and Toronto becomes a smarter and more mobility-driven city, it's clear that there's a desire for new ways of moving around", said Marco Viviani, Communauto Vice President. "Carsharing complements transit and active transportation to provide affordable, flexible and eco-friendly mobility, reducing congestion and pollution. That's why we're thrilled to be working with the City of Toronto as the first participants in its new carsharing pilot project. This report confirms what we observed on the field, the rapid adoption of the service by Torontonians that led us to enlarge the service area after just 3 months."
The report went on to find that 12 per cent of Toronto's drivers have tried carsharing, and that nearly half of the city's population (49 per cent) are open to using such a service. Of the demographics surveyed, Millennials were most receptive, with 67 per cent open to the idea of trying a free-floating carsharing service. They were also the demographic most familiar with carsharing—22 per cent of 18-34-year-olds said they've used a carsharing service in the past, compared to 10 per cent of Gen Xers and just 4 per cent of Baby Boomers.
"Communauto has been an excellent resource for my fiancé and I," said Andrew, a 24-year-old resident of downtown Toronto. "Living in the city is expensive, and owning a car is a big, expensive responsibility. Between summer cycling and public transit, we find ourselves only requiring a vehicle occasionally, for transporting purchases and getting out of the city. Communauto fills these needs perfectly. One way trips are convenient, and daily rates are reasonable for weekend trips. Also, the cars are all well equipped, and drive smoothly. It's an easy, low hassle alternative to owning or renting."
In just three months the results are impressive: more than 30,000 trips by more than 2,000 users. The average trip is 20 km and more than three hours in duration, with 5 per cent of weekend trips lasting more than 24 hours. Some of the most popular long-distance destinations are Muskoka and Prince Edward County and the most popular carsharing neighbourhoods are Parkdale, Little Italy, Riverdale, and Little India. Customers use the service to complete tasks like groceries, business meetings, shopping at IKEA, visiting friends, and going out of the city.
Free-Floating Zone
Communauto FLEX launched in Toronto with 200 Hyundai Accent hatchbacks in November 2018, servicing an area of close to 50 square kilometres in the downtown core. The free-floating parking zone spans to High Park and Runnymede in the west, Dupont and Mortimer in the north, and Victoria Park in the east.
How it works
Communauto FLEX offers Torontonians 24/7 access to one-way carsharing and a simple way to improve their mobility inside and outside the city. Registered users can locate and reserve cars using the Communauto FLEX mobile app, and doors can be unlocked and locked using a smartphone.
Communauto FLEX has no monthly fees and is free to join, using a pay-as-you-go structure. Daily trips begin at $0.41/minute, $15/hour, $50 the first day, and $35 for any extra days, fuel price included. The first 150 km is included in the price of each trip, and for a limited time, registered users will receive the first 30 minutes of each trip free. Torontonians can book Communauto FLEX cars, which are parked in residential on-street parking spaces within the 50 kilometre square service area, and drive anywhere they want to go in between, dropping the car off in any legal parking space at the end of the trip. Metered parking spaces and Green P lots are for the moment excluded from the service area.
To register for Communauto FLEX, please visit: https://toronto.communauto.com/join
More information on Toronto's Free-Floating Car-Share pilot project is available at http://bit.ly/FFCarSharePilot2018
About Communauto
Founded in Quebec City in 1994, Communauto is the longest-running car-sharing service in North America and the one serving the largest number of communities in Canada. With a fleet of more than 2,000 vehicles, the company serves 13 cities each one with a local approach. Among these are Edmonton, Waterloo Region, Hamilton, London, Guelph, Kingston, Ottawa, Gatineau, Montréal/Laval/ Longueuil, Quebec City/Lévis, Sherbrooke, Halifax and Paris in France. Communauto group operates gas, hybrids and electric cars and offers both round-trip and free-floating carsharing.