Credit cards in the glovebox of our cars can now be used for your convenience.
IMPORTANT: These cards only work under specific conditions (see below). You must make sure to be able to make purchases with other means, if necessary.
Do not send us the receipts for purchases made with these cards.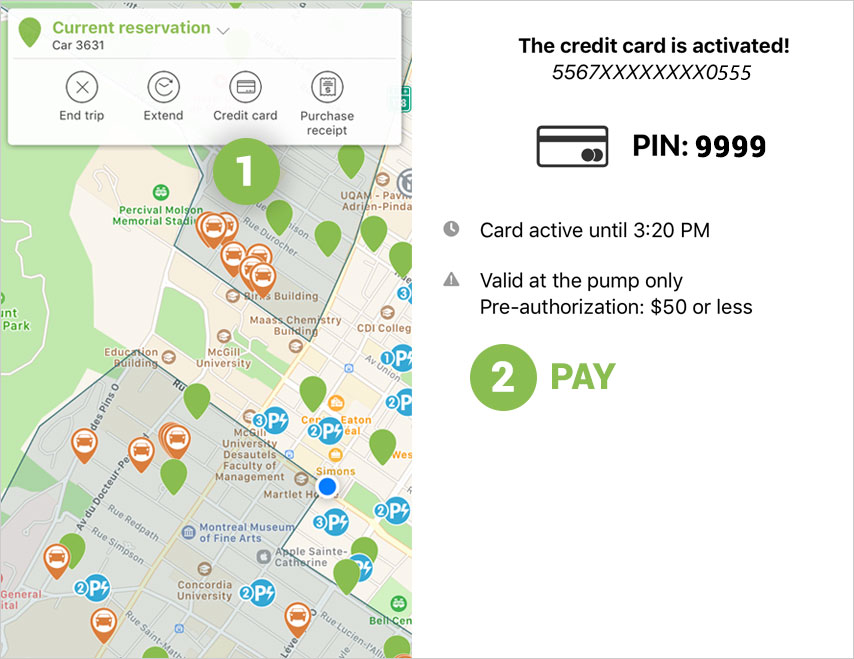 What you need to know:
For security reasons, the credit cards can only be used during a reservation and must be activated in the app before each use;
Card activation will not be possible if you are outside the cellular network. Make sure you have other means of payment, in case this happens;
The card will be active for 15 minutes at a time, and can be reactivated as many times as necessary during a reservation;
Transactions can only be made at the pump, at all gas stations across the country (not just Shell stations);
As a security measure, the amount to be preauthorized at the pump is $50 maximum. The card may not work if the daily maximum is reached;
Make sure to put the card in its slot, in the glovebox after using it. Otherwise you will not be able to end your reservation properly when placing your OPUS card or RFID key on the reader;
While you do not need to provide us with the receipts for purchases made with these cards, please hold on to your receipts until the billing date for your trip, for verification purposes.
If you use another method of payment and wish to obtain a credit for a purchase, you must provide us your receipts via the App, your member area or send them by mail.