Advantages for Communauto subscribers
Pay 30¢/minute instead of 38¢ at all times !
The hourly and daily rates remain unchanged.
Savings of over 20% !

Use an Auto-mobile at your package's rate!

As a Communauto subscriber to one of our Value Plans or our Open Plan, you can use Auto-mobile vehicles at the basic rate1 of your package (hourly rate + kilometre rate) no matter the length of your trip. A two hours minimum will however be billed (start and end times rounded to 15 minutes according to standard Communauto reservation increments : 00, 15, 30, 45).
See an example.

1The basic rate excludes special offers such as Workweek rate and Long distance rate.

It's easy! The lowest fare is automatically offered according to the number of kilometres travelled. There is nothing else to worry about!
Here are a few examples, the amounts in bold show the price that would apply, according to your package, to your trips if you were to use Auto-mobile: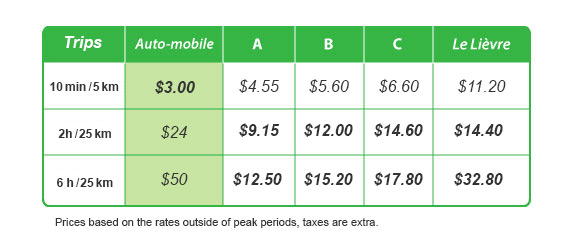 Already a Communauto subscriber?
To access the Auto-mobile service, you need to register your OPUS card in the Personal Information section of RESERVauto. No service access fee required. An invitation explaining how the service works will be sent you by email within one business day.

Auto-mobile allows you to use a vehicle while paying only for the time taken to get from one place to the next (there are no stations for these vehicles), hence the rate by the minute pricing of this service. Typical Auto-mobile trips are generally very short, as shown in the first example above. Find out more ›
You would like to subscribe to a Communauto package?
If you are an Auto-mobile user, and wish to access Communauto's complete offer, all you need to do is request a status change.Go to the « Personal information » section of your online account, and click on "Change my membership status". Just follow the easy and quick steps to complete the request. You will receive your key within a few days and you'll be ready to go!

Subscribing to Communauto is quick and easy. You will receive your key within a few days and you'll be ready to go!