In Quebec City and Montreal, you also automatically have access to FLEX (formerly Auto-mobile), our one-way carsharing service.
Communauto offers all the advantages of the car without the hassle, in addition to being the perfect complement to all other public and active transportation modes!
Communauto pays all the costs related to the normal operation of the service: vehicle purchasing, financing, registration, insurance, repairs and maintenance, as well as all administrative costs… and even gas! No more surprise repair bills! Communauto takes care of everything!
Our services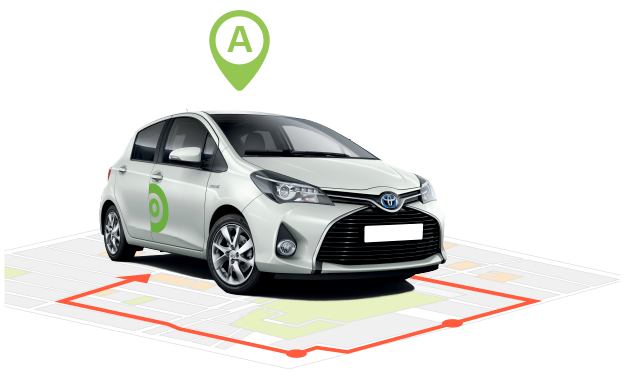 With reservation…
Round trips, I bring my Communauto car back to its station.
Reserve your car online or by phone specifying the dates and time of start and end of your trip.
Pick up the car at the station you selected and return it to the station where you picked it up at the agreed time.
Station-based Communauto vehicles can be booked up to a month in advance and give you access to the best rates. They are ideal for planned trips or when you need to make sure you will have access to a vehicle at a specific time and place. Take advantage of preferred rates when you use a FLEX vehicle by opting for Value Plans or Open Plan.
Communauto : how it works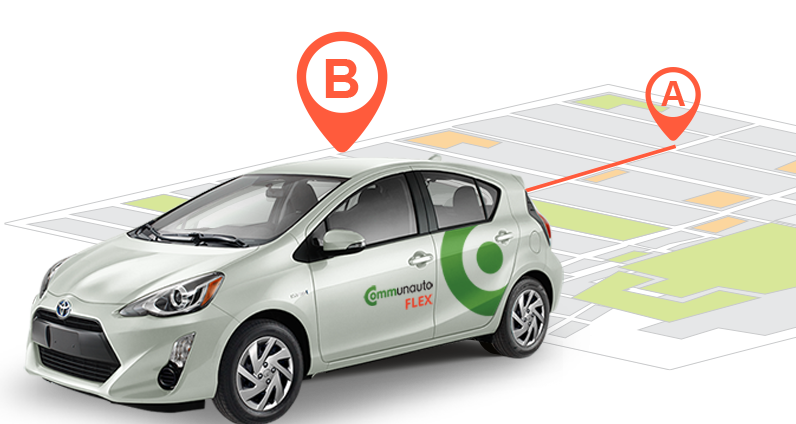 …or without reservation
Trips from point A to point B. I release my FLEX car where I want when I want.
Block your vehicle for 30 minutes online, so you have time to get there (this period is not billed).
Access the vehicle on the street and leave it anywhere in the service area, where signage allows.
FLEX vehicles are the ideal solution for spontaneous trips or when you plan to return with another transportation mode. Release the vehicle at your destination to minimize costs and take advantage of parking in resident-only zones. Getting around will have never felt so free!
The best of both worlds
Thanks to services with or without reservation, Communauto allows you to enjoy two fully integrated services at the best prices in the market.
Basic subscription to FLEX (formerly Auto-mobile) is free (access limited to vehicles identified as such). But you can save big by switching to the full subscription.
To do so, subscribe to Value Plans or Open Plan and access over a thousand more vehicles at the best prices, while enjoying privileged rates when using FLEX vehicles: 35¢/minute instead of 40¢. Plus, you have the possibility of using FLEX at the rate of your package.
No matter the type of subscription you choose or the vehicle you use, your trips will be charged according to time and the number of kilometres traveled: a detailed invoice is sent to you at the end of each month.
Our vehicles

Our fleet is mostly composed of Toyota Prius C and Toyota Prius V (hybrid cars). Toyota Corolla, Toyota Yaris, Nissan Versa and Note complete our offer in terms of gas cars. On the electric side, a growing number of Nissan LEAF and Chevrolet VOLT are also at your disposal.
If you want a different model, you can obtain one through our agreements with certain rental companies, namely Discount and Via Route. Communauto subscribers may take advantage of preferential rates with these companies. See Network Reservations
All of our vehicles are equipped with an automatic transmission and have winter tires from November to April (and all-season tires the rest of the year).
All of our vehicles are non-smoking and 12% of our fleet is equipped with baby car seats (accessory not available with the FLEX fleet).