Electric vehicles available for everyone!

Media and downloads
Archives
Since January 2012, Communauto has a fleet of self-serve electric vehicles available to all. If you are already a subscriber, you can use them once you have completed the online training on Réservauto. For the others, you simply need to subscribe at www.communauto.com to take advantage of this new 100% electric technology at a low-cost.

Electric vehicles are also available for one-way carsharing on the Plateau-Mont-Royal borough. These vehicles can be used for one-way trips (from point A to point B), without having to return the vehicle to its original location.

For more information on the project: communauto.com/auto-mobile
---
Why self-service electric vehicles?

There are many advantages to integrating electric vehicles to a self-service automobile fleet:
Communauto has a network of charging stations, which allows residents of dense areas to access the electric car.
Communauto has affordable prices starting from $1.50 per hour of driving and $0.23 per kilometre.
Communauto has the right car for the every type of trip - electric for short-distance trips, gasoline for long-distance trips.
But especially because:
Communauto is a service with an environmental and social mission which helps reduce the number of and use of vehicles, should they be electric or gasoline.
Who is able to use the vehicles?
All Communauto subscribers. This is what makes the project particularly interesting. Thanks to the program, a large pool of people (to date, nearly 28 000 subscribers) have the opportunity to test and use the 100% electric technology.
Our electric vehicles network

Montréal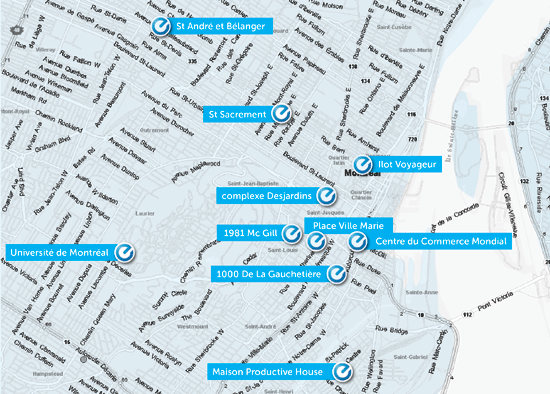 Québec City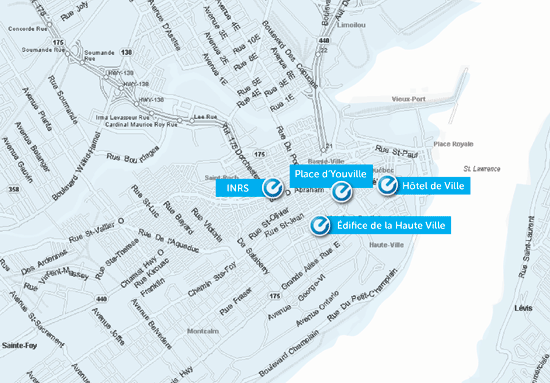 The 50 vehicles will be gradually added to Communauto's automobile fleet in the cities of Montreal and Quebec City, primarily located in central areas.


Latest news
Québec enters the era of electric vehicles available to all
Québec City, August 15th 2011 – Communauto, Hydro-Québec and Nissan Canada are proud to announce the launch of the largest North American all-electric carsharing service, and the first of its kind in Québec. The project will be rolled out until early 2012 , with 50 all-electric Nissan LEAFs added to Communauto's fleet, including 15 available today. [...]

Read more
Montréal, May 26, 2011 - The Communauto LEAF test drive: an electrifying experience!
---
Montréal, April 6, 2011 - Communauto tests a charging station!
Only a few more months remain before the arrival of our first electric vehicles. The Communauto team is testing the charging stations. See how easy it is to charge a vehicle… a piece of cake!
---
Montreal, March 2, 2011 - Our Development Director delivers a conference at Infopresse on the project with Nissan.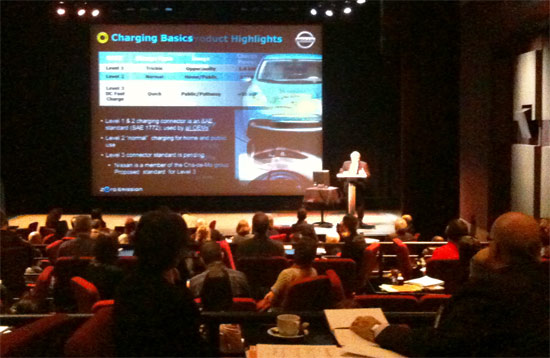 Marco Viviani, Communauto's Development and Public Relations Director and Ian Forsyth, Nissan's Corporate and product Planning Director, delivered a presentation, last March 2nd, under Infopresse's conferences. Its title being Nissan-Communauto: comarketing strategy to reach eco-consumers, Communauto and Nissan proved how strong a marketing plan partnership could be, as well as social and environmental one.
---
Montreal, June 2, 2010 - Benoît Robert, our president and CEO, being interviewed by Radio-Canada
Communauto, one of the most major carsharing services in the world and the first of its kind in North America, revealed today that she is undertaking the incorporation of 50 Nissan LEAFs cars in her automobile fleet when the vehicle will be sold in Canada.
---
Montreal, June 1, 2010 - Communauto will offer Nissan LEAFs electric vehicles as of 2011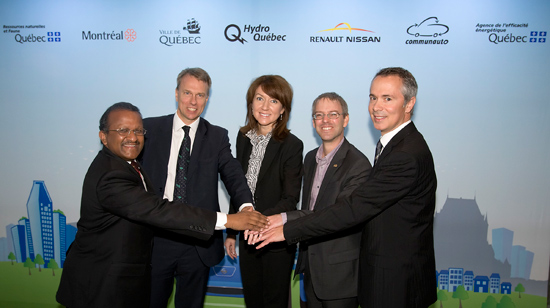 [Press release] - Communauto, one of the world's largest and North America's first carsharing service, announced today a commitment to add 50 Nissan LEAFs to its fleet when the vehicle is available to the Canadian market before the end of 2011. Read more